Working a room in networking can be quite daunting, can't it?
Have you ever wondered that out of this online blogging platform, you are invited to an event where you are meeting people for the first time. You may be quite nervous and you need to look for a friendly face.
Focus on Getting the Best out of Networking
When you meet someone you need to listen to what they are saying, and look at their name badge, and repeat their name. Ask for a business card if you can't remember the name.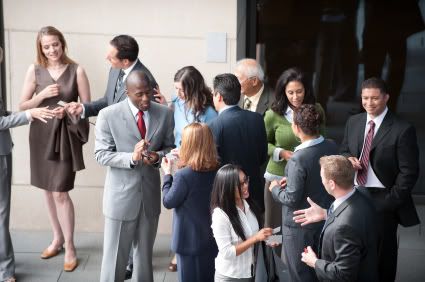 Is networking selling or not selling? What really is networking - most people hate the sales pitch.
Networking is part of the marketing mix.
There are times when you turn up and there is a window, then you might be able to make a pitch, but this is distinctly remote. Therefore you need to have a higher strategy, particularly that it is unlikely that you will do business with them in one month. The fastest
Heather White
has converted a cold contact is under three days, but it could be three, six, nine twelve months and under two years. Networking allows you to find the contact and establish some rapport, and then to hear some opportunities, it could be that you you might have to meet sometimes a person two, four, six, ten times before that window appears.
One of the reasons networking does not work for some people is that they do not understand about the buying cycles and the buying cultures. It may take up to a year to do business, so you need to make sure that you are on the list of whoever they are thinking about when that moment arises.
The word of mouth is going to sell your services, and you are not going to sell at that event.
The first thing you need to do is to think if this is the right event you are going to, and what are your reasons for going to it. What is your strategy to go to one particular event?
Have you made contact with the host, because your host knows you, they can make contacts for you. Walk away with three to four business contacts that you can talk to the next day, and meet for coffee afterwards, not necessarily about doing business with.
CatchFriday.com
© Catch Friday Media Limited 2012